MEMBERS, SIGN IN TO YOUR MINDBODY ONLINE ACCOUNT
CHECK IN TO OUR FACEBOOK PAGE & HELP US MAKE A DIFFERENCE!


For the month of February, with the help of Sweat Angels and Best Friends Animal Society, EVERY time you check in to the Budo Ryu, you will be helping to donate care and resources for a shelter animal!
UPCOMING EVENTS:


January 8th thru Feb 19th​: 6-week Budo Tactical Handgun Class every Friday night from 6-7:30pm. This is a CLOSED class. Contact Eric Sandahl to sign up for the next course! (No class on Friday January 29th)
01.01.16 Great job, Budo Members! Last month, by checking in to the Budo Ryu on Facebook, we have helped SweatAngels to provide 9,696 holiday gits to children battling cancer! Keep up the good work and keep checking in to the Budo Ryu! This month, every time you check in to the Budo Ryu on Facebook, you will help to donate a winter coat for a person in need!

01.23.16 Congratulations to Budo Ryu Baan ChaaNa Muay Thai Fighter Ryan Higginbotham on his tremendous victories at this weekend's WAKO Kickboxing Tournament at the LA Fitness Expo! In the first fight, Ryan TKO'd his opponent at 1:48 in the first round! It was a TKO by the way of referee stoppage because he had dominated his opponent so much that the referee issued three standing eight counts! In Ryan's second fight, he and his opponent battled it out, and in the last round, Ryan sealed his fate as the victor, winning in a split decision from the judges!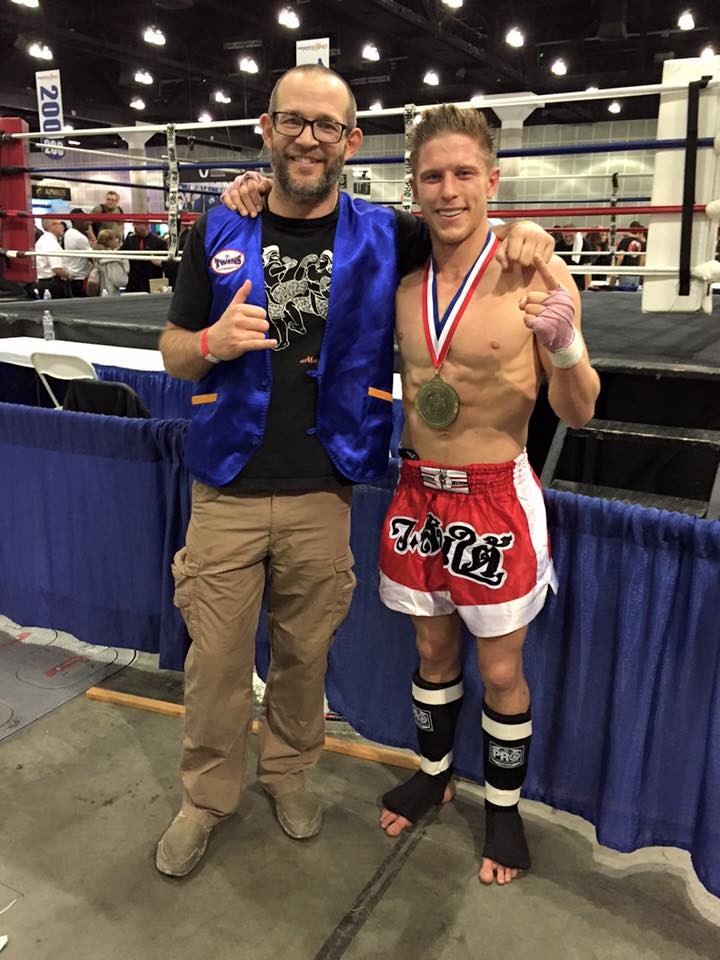 ANNOUNCEMENTS
:​​
​
01.31.16 Thank you to everyone who came out to support Geri and Team Baan ChaaNa at the IFS20 Muay Thai show! ​Even though the fight did not go our way, I am so immensely proud of her. She had a very challenging camp from the very beginning all the way to the final days of the fight camp and yet Geri continued to learn and progress. We are looking forward to a future rematch and second chance for the IFS Title!

​​February​​ 20th: Central Coast Krav Maga Level 2 test!
March 5th: 10am-1pm
FIGHT BACK
Krav Maga women-only seminar​​​ at the Budo Ryu
​​March
6th: 5pm-6:30pm
Human Being Training Yoga
at the Budo Ryu
March 12th: Fight Back Krav Maga seminar for Kappa Alpha Theta sorority​​. This is a private event.


​March 27th: PAK sanctioned amateur Muay Thai show in Fresno

April 3rd: 5pm-6:30pm Human Being Training Yoga at the Budo Ryu
​​
May 21st: IFS21 sanctioned amateur Muay Thai​​ show in Anaheim