Kru Eric Sandahl
Budo Ryu Owner & Founder
Muay Thai Chief Instructor (Kru) & Krav Maga Chief Instructor; JungleGym Fitness Instructor (Monkey Bar Gym Certified Natural Trainer); Competition Fight Team Head Coach, Professional Muay Thai Fighter
Geri Ooi Sandahl
Muay Thai Instructor, & Krav Maga Instructor
Geri was first introduced to Muay Thai in 2005 and has been training directly under Kru Eric Sandahl since she threw her first round kick at the Budo Ryu.

In the United States, Geri has trained in Muay Thai directly under Kru Eric Sandahl and Ajarn Nelson Siyavorn. She has also trained with internationally acclaimed Muay Thai Coaches: Kru Phon Narupai, Kru Ten, Kru Kong, and the amazing Kru Thailand Pinsinchai of Santai Gym in Chiang Mai, Thailand; and the Contender Asia coaches of Baan Nak Muay in Singapore. Geri is the USMTO East 2018 and the USMTO West 2019 A-Class Champion.
Geri is also a Expert 1/Blue Belt certified Krav Maga instructor through Krav Maga Worldwide. She has trained directly under Krav Maga Worldwide Instructors: Kelly Campbell, Kevin Lewis, Jon Pascal, AJ Draven, John "Junior" Merkle and Christian Medina, to name a few. Geri also has an Orange Belt ranking with Israeli Krav International directly by IKI director Moshe Katz.
Geri has also trained under former Israeli Special Forces, Duvdevan Unit Commando, Aaron Cohen in Special Operations and SWAT Training, and has completed the intense 80-hour tactical training course in Counter-Terrorist Tactical Operations through IMS.
Geri is proud to be a Brand Ambassador of Sociey Nine, a boxing gear and apparel company made by women for women.
Coach Jeremy Lopez
Contortion Jiu Jitsu Program Chief Instructor
Coach Jeremy Lopez is a high level Jiu Jitsu competitor with over 90 tournaments under his belt. He began training Jiu Jitsu in high school after watching one of the first UFC events and seeing how well Jiu Jitsu competitors fared. The major attraction to him was that flexibility and technique could be used in jiu jitsu to minimize the amount of damage sustained by an opponent while still gaining victory via submission for the Grappler. "A good match is where nobody is seriously injured"
With a well-rounded martial arts training background including wrestling, striking and Judo, Jeremy has won 15 MMA matches in his career total of 17 sanctioned and unsanctioned matches. King of the Cage, Gladiator Challenge, Kage Kombat Monsters, Born To Fight, and Vale Tudo Inc, are some of the venues where Jeremy has competed and come away victorious.
In 2004, Jeremy traveled to Brazil to train with the likes of 5x Pan Ams Champion Vinicius Draculino at his school in Rio De Janeiro. He described the experience as being in a shark tank: there were 20 black belts practioners in any single class as opposed to the one or two black belt practitioners per class here in the USA. Upon his return, he was approached by the well-known MMA industry pioneer, Tapout, to represent their brand and remained on their roster of sponsored fighters for several years. If you're lucky, you'll spot Jeremy driving around in his sleek black Porshe 911, gifted to him by Team Tapout!
Jeremy has trained in numerous Jiu Jitsu Academies such as the 10th Planet in Hollywood with jiu jitsu phenom and founder, Eddie Bravo. Also with multiple time world champion Fabio Leopoldo. Honing his skills in guard defense, takedowns, aggresive top control and emphasizing "position before submission", Jeremy has been teaching Jiu Jitsu privately and found his way to the Budo Ryu in 2009 where he founded Contortion Jiu Jitsu. He is pleased to be a part of such a fine teaching staff and loves helping new and experienced students better their skill set.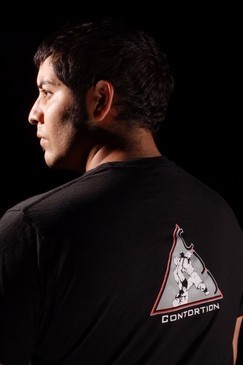 Kru Eric Sandahl began his Martial Arts training in the art of Shotokan Karate in 1992. Under the tutelage of Don Wilson, Ron Moyers, and John Van Matre, Eric received his Dan (black belt) rank in 1999. In that same year, Eric was stationed with The US Marine Corps's 4th Force Reconnaissance Co. in Kaneohe Bay Hawaii. At that time, he was also fortunate to train with legendary Kyukushin-Kye Shihan (Master) Bobby Lowe.

Eric's introduction to Muay Thai began when he was a young child. Eric has family in Thailand and has spent much of his life traveling between the States and Thailand. It was through his regular trips with his family that he fell in love with the Thai culture, and where he was first introduced to the art of Muay Thai. To further assimilate himself into the Thai way of life, Eric lived in Bangkok as an English teacher for a short period of time. Kru Eric has trained with the best of the best in the international Muay Thai/kickboxing world: Kru Tan Panturak and Kru "Aey" Sakeddao Khanomtom (formerly of Fairtex) of Khanomtom62 in Bangkok; Kru Phon Nalukpai, Kru Anantachai Pinsinchai, Kru Gaddam Sakpanja (the trainer for Muay Thai Champion and Thai Celebrity Nong Toom), and Kru Thailand Pinsinchai of Santai Muay Thai (formerly Siam No. 1) in Chiang Mai; Kru Preecha, Kru Ton (trainer from Contender Asia, Singapore), and Kru Ched (personal trainer to Contender Asia Winner Yodsaenklai Fairtex) of Baan Nak Muay in Singapore; Scott Lighty (K-1 Fighter) of SLO Kickboxing; Darby Evans; and Ajarn Nelson Siyavorn. Eric has also fought professional Muay Thai in the USA, Guatemala, and Thailand; and is currently undefeated in Thailand.
In 2005, the Budo Ryu Center opened. Since then, the Budo Family has gotten bigger and stronger. In 2008, Eric expanded the Budo Ryu's martial arts program to include the practical system of Krav Maga, through direct affiliation with Krav Maga Worldwide. In 2012, Eric expanded the Central Coast Krav Maga program to include direct affiliation with Krav Maga Alliance. Since joining the Krav Maga community, Eric has earned the rank of Instructor-level Black Belt, has accomplished all five modules of the Force Training (Law Enforcement) curriculum, and is now enjoying training Civilians, Law Enforcement, security and Military, in "outside the box" thinking, combative striking, self-defense, and weapons-training that Krav Maga is famous for. Eric is currently training for his upcoming Krav Maga Worldwide Instructor Black Belt Test.

In addition to Krav Maga Worldwide and Krav Maga Alliance, Eric has also trained with Former Israeli Special Forces Duvdevan Unit Aaron Cohen in his Israeli SWAT Course, with Israeli Krav InternationalMoshe Katz, attended The Front Sight Fire Arms Training Institute "Defensive Hand Gun" course, and Spartan Training Resources courses in handgun, shotgun, and AR (he implements elements of their training and mindset into the Krav Maga curriculum), and has also recently completed the L.A.P.D. Arrested Control Instructor Certification Course.
Eric is also a certified MonkeyBar Gym Certified Natural Trainer, trained by and certified by Jon Hinds; AND he is a certified Russian Kettlebell Instructor, trained by Chris Holder and certified under RKC.
An eternal student and perfectionist, Eric continues to grow as both a practitioner and teacher of martial arts and defensive tactics.
Aside from martial arts, Eric is an avid surfer, photographer, and traveler. Eric has had the opportunity to travel through much of South East and East Asia, as well as parts of Europe and Central America. He has been traveling to Thailand since he was 4 years old. In addition to teaching Muay Thai and Krav Maga, Eric also enjoys imparting the cultural aspect of the art in his training and teaching. Eric has been fortunate to visit and train/compete in Europe, Asia, and Central America. He is also a graduate from the Allan Hancock Police Academy, with honors ("Top Gun" best marksmanship), is an Arrested Control Instructor for the Allan Hancock Police Academy, and The California Specialized Training Institute (CSTI) run by The California Emergency Management Agency. He also currently volunteers as an Assistant Firearms Instructor at his alma mater. Eric is currently attending Executive Securities International and is an active agent for Executive Protection and Private Security companies through out the state.
Eric is also an alumnus of the New Mexico Military Institute. After the Institute, Eric became a United States Marine, serving with Wpns CO 2/23 as Anti-Armor Infantry, and Nuclear Biological and Chemical warfare defense specialist, and later with the elite 4th Force Reconnaissance CO.